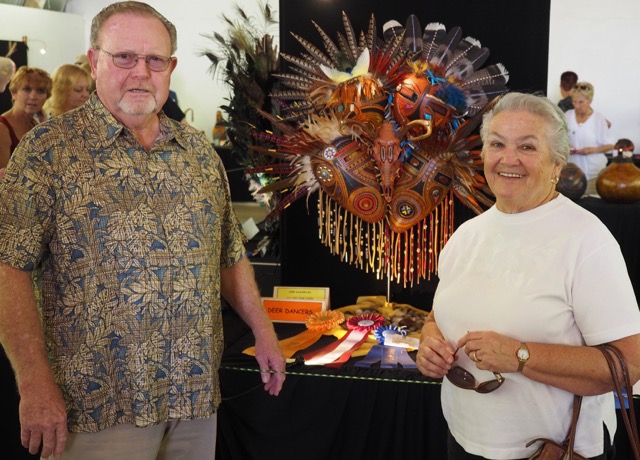 HAL AND JANE AT THE "2016" GOURD FESTIVAL HELD IN CASA GRANDE, AZ.
DISPLAYED IS THE "DEER DANCERS" WHICH WON BEST OF MASTERS
Hal Sager has done a variety of things in his working career. He and his wife Jane are now retired and spend their time in Idaho and Arizona. In the Southwest he has become enchanted with the desert landscape and the Indian culture.
He has embarked on a new venture and is creating artistic masks made from gourds. Each mask is unique and the variety of materials used makes each not only an item of interest but an object of art. Hal will carve, burn, stain and paint, adding such items as feathers, fabric, beads, twigs, ancient pottery shards, gem stones, silver, jewelry, leather, antlers, carved bones, fur, horse hair and other creative materials. Masks can be simple or dramatic and will enhance any home or office décor. Jane does the fine detail painting.
Hal's masks are not just for the Southwest. From his travels he has drawn inspiration from civilizations worldwide. Africa, Mexico, Peru, Equador, several islands, Canada, Alaska and of course the Western Indians have all produced masks. Hal and his wife, Jane spent thirty five days in Africa in 2007, researching the art of several African countries. Jane was in Kenya Africa in 2016.
In 2005, 2007 and 2008 Hal donated masks to the University of Arizona Museum of Art. They brought top dollar at auction. In 2007 Hal was the featured artist in the Northern Dipper gourd newsletter and their web site in Canada.
Hal has had three masks commissioned by the Agua Caliente Cahuilla Tribe of Indians in Palm Desert California. His latest was auctioned off at a fund raiser in December of 2016.
Hal has competed in the Casa Grande Gourd festival since 2007. Working his way up and improving his art he eventually won the 'BEST OF MASTERS' in 2016.
Hal was asked to show a new original piece of gourd art at the Casa Grande Gourd Festival in the 'GRAND MASTERS' division for the 2017 festival held in February.
It was an honor to be asked and Hal accepted.
Hal spends the summer months in McCall, Idaho where he has other pursuits, he spends seven months a year in Arizona creating the gourd masks so his supply is limited while demand is strong.
You can contact us through our web site, 'e' mail or give us a call.
520-572-9098